Top 10 Cafes in Medellin
19 June 2023.
Posted in

Blog EN
Colombia is known for high-quality coffee. Because the demand in the world is high for this coffee, most of the coffee that grows in Colombia gets exported, for a higher price than the local market offers. This means that many Colombians actually drink low quality coffee. However, there are cafes in Medellin that offer this high-quality coffee that is sourced in Colombia and is export quality. Besides coffee prepared in various ways these cafes offer delicious baked goods, breakfast and lunch. We share some of our favorite cafes in Medellin (in no particular order).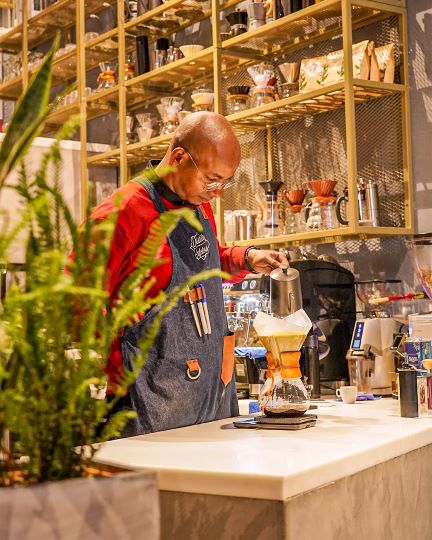 1. PERGAMINO
Perhaps the most well-known café amongst foreigners in Medellin. They have many locations: Via Primavera, Calle 10B, inside Shopping Center Oviedo, at the airport JMC, San Lucas and soon they will open a new location in Laureles. Their location in via Primavera might be the best for a leisure coffee, while their Calle 10B locations is great if you want to bring your laptop and get some work done. Recently they expanded their food offer and have all day modern breakfast, my personal favorite is their Huevos Pergamino with fried eggs served on to pomodoro made of San Marzano tomatoes with a cheese and corn biscuit. They also have sandwiches and bowls. And of course, typical bakery goods like delicious croissants from Tres Trigos, carrot, chocolate and red velvet cake. Their Argentinean empanadas, caprese or with beef, are a great snack.
Their coffee comes from 600 allied producers throughout the country. They sell bags of single origin coffee from Pompeya, Nariño, Santa Bárbara, Antioquia and Tolima. They also sell many other gadgets like colorful mugs, pins, posters and magnets, which make great souvenirs and gifts for home.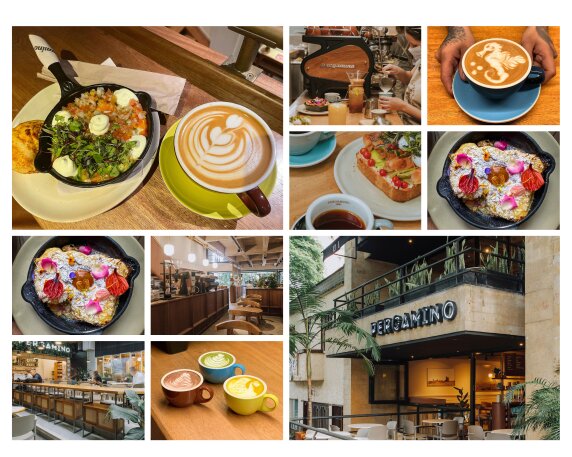 2. CLEMENTE ORIGEN
A newly opened café in Loma Lalinde, just a street up from Provenza. Besides the traditional café preparations, they also have sweet cold variants like frappe de café and frappe de mocaccino. They also serve drinks with Matcha like frappe macha, cold matcha latte and hot matcha latte. The café is great for a brunch, and they have an all-day breakfast. For lunch they offer bowls, salads, burgers and taco's. For the sweet tooth they sell various types of cakes, I loved their lemon cake, cookies and brownies.
They have a special place for co-working where you can comfortably plug in your devices and have a seat for one.
The thing that I really love about this café is that you can order and pay by scanning the QR code on your table. Basically, all restaurants and cafés nowadays have a QR based menu and it seems logical that orders and payments can be done that way as well. However, this is the first café I have seen that actually offers this. No more looking for and waving to waiter or having to walk up to the counter to order. As a Dutch person I love this efficiency! If you do prefer in-person service, they do still have the option to order with the waiter. Fun fact, they also sell flowers and sometimes have interesting events like Tarot reading.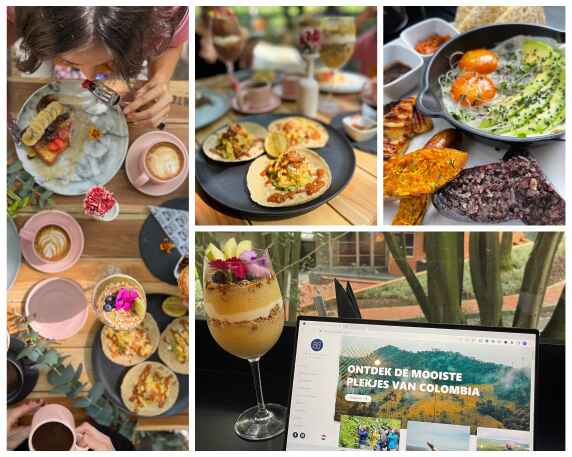 3. VELVET
Located on Via Primavera, Café Velvet was one of the first cafes to open here in 2014. The café is Belgium owned and sells single original specialty coffee. They source directly from farmers from different regions in Colombia. They roast in Itagüí, south of Medellin and in Brussels, Belgium.  
One of the coffees they sell is called Fuerza, for the strength of women. This particular coffee comes from the cooperative ASOPEP in Planadas, Tolima, a region has been plagued by the armed conflict in the past. Of its more than 300 associated producers 28% are mothers head of families with an average age of 35.  Through the initiative Comite de Mujeres, founded by 154 women, women engage in crafts, home gardening and grow medicinal plants. In the coffee school Construyendo Futuro, children from associated producers learn barista and sensorial skills.
They are renewing their menu with more lunch options and always have delicious baked goods.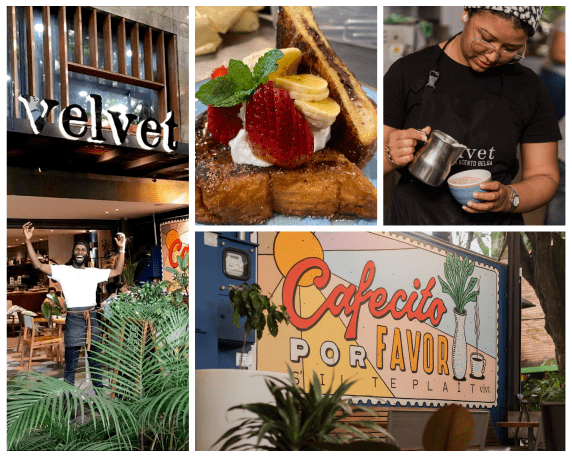 4. HIJA MIA
This café is based in the upcoming area of Manila. It started with a small café with just 4 tables and its own roasting machine. However, the café was always packed, and the New-Zealand owner saw the opportunity to expand his business to a larger location just down the street. At the first floor of the Nomada Origen Hotel you will find this second location with more seating, keeping the same style and iconic blue tiles.
Since they have their own roasting machine on site, their coffee is always fresh, and they buy export quality from Dutch exporters. Their all-day brunch menu offers a great alternative to the traditional Colombian breakfast, with things like Acai bowls, French toast, Ricotta hotcake, Turkish poached eggs and my favorite avocado toast. For the bigger hunger they offer burgers, satay chicken, surf n turf. Besides their coffee I tried their ginger soda the other day, which gave me a great healthy kick after lunch.
5. VALENTINA BAKERY
Probably not as well known amongst tourist and foreigners, but one of my favorite places for cakes and other baked goods. They have three locations: inside shopping mall Santa Fe, Los Balsos and Tesoro.
They have a big selection of savory and sweet baked goods. They have croissants with; Nutella, cream cheese, chocolate & almond, serrano ham and guava. 
For cakes they have limon & pistachio, banana cream, blueberries, chocolate caramel, red fruit, brownie, crème brulee.
Everything is freshly baked, which makes the whole difference!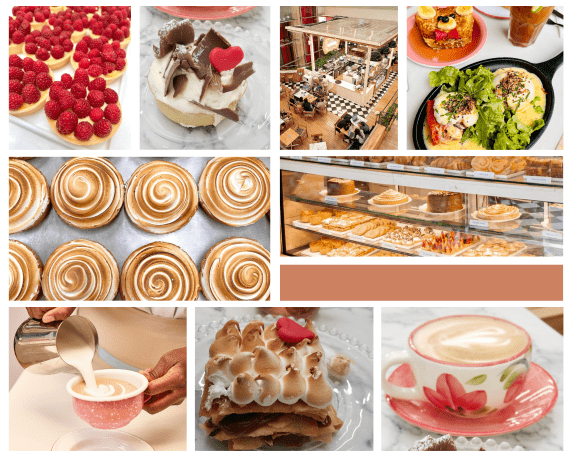 6. CAMBRIA CAFÉ RESTO
Perhaps not a place that has a strong coffee story, although their café is really good. However, I wanted to add Cambria to the list because of their outstanding pastries, pies and breakfast. For breakfast my favorite is their shakshuka. For lunch and dinner they have sandwiches, pastas, salads, dishes with fish and meat, with a nice selection of wine and cocktail options. For their pastries and pies, make sure to go up to the counter to pick them, you will have a wide selection of beautifully made cakes; German chocolate, apple and nuts, carrot, brownie, chocolate, red velvet, pumpkin, banana and caramel en mocha. Appel strudel, turnovers of all kinds, quiches, cinnamon rolls and much more…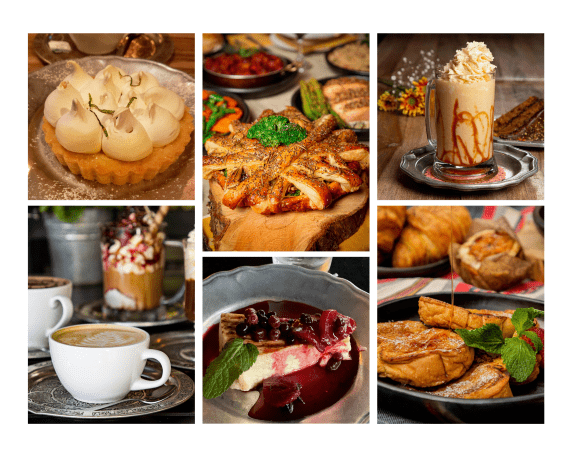 7. CAFÉ LA MANCHURIA
Based on the first floor of the Masaya hostel, it is one of the few places that actually sells coffee from their own coffee finca in Salgar. Their 90-hectare coffee reserve is located about 3,5 hours from Medellin, where they grow high altitude Arabica Coffee between 1,600 and 2,000 meters above sea level. They also roast on their finca.
This spacious café has a mix of traditional colorful coffee region style decorations and modern furniture. The menu is extensive with all kinds of breakfast and lunch options. They also have a café in Cartagena and Santa Fe de Antioquia. They sell their different types of coffee in colorful packages which makes great gifts. Besides their coffee beans they also sell honey from their finca as they also have more than 100 beehives!
8. CARIÑITO MÍO CAFÉ
Located in Ciudad del Rio close to the Modern Art Museum, this café has an outdoor terrace, indoor downstairs and upstairs seating. Like the other cafes mentioned in this blog, they sell Colombian origin export quality coffee. Their balanced coffee comes from de Sierra and Los Cedros fincas, in Antioquia.  Coffee with fragrance and sweet aroma, floral notes, chocolate and caramel. Their soft coffee from Huila is delicate, sweet coffee, winey, floral notes and toasted almonds in fragrance. Medium citrus acidity. And their intense coffee from Tolima has flavors of floral notes, citrus, spices, anise, blackberries. Besides coffee they serve juices, cakes, croissants, toasts, breakfasts, salads, and lunch.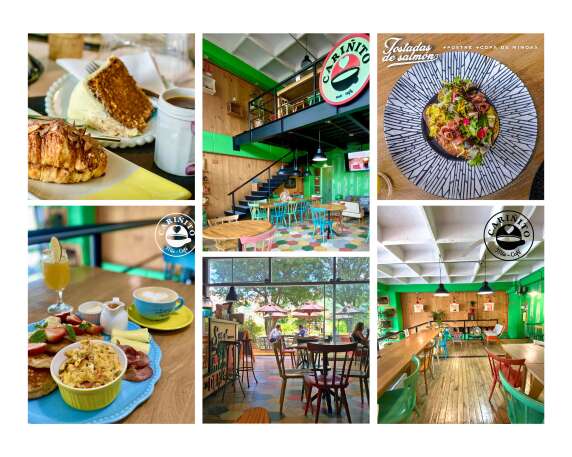 9. DISTRITO CAFETERO
This is a hidden gem, a bit outside of the normal touristy areas. Located in Barrio Colombia. The neighborhood is industrial but has some stunning colorful graffiti all over it. So, it is worth walking around the barrio first before going to the café. To get into the café, you need to pay attention, the door is on the left side, and you need to ring the doorbell to get in. Once inside you will appreciate their modern urban style. You can tell from the setup that they are not just a café, but you can see their toasting machine behind glass and have a lot of preparation methods displayed throughout the café. For lunch they have great options like various healthy bowls, sandwich from yuca bread and I love their wraps.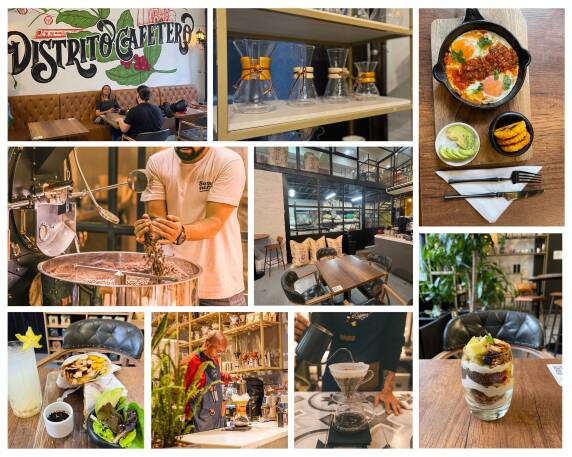 10. URBANIA CAFE
With their recently opened location in Shopping Mall Oviendo, Urbania now has 6 locations spread out over Medellin. My favorite is Urbania 8 – Poblado, located in Astorga. One of the coffee beans they have is 'Café Paz' which comes from several municipalities in Antioquia and Tolima. All this coffee is part of peace-building projects since its producers are victims of the armed conflict, signatories of peace, adherents to the substitution of illicit crops and populations in a vulnerable state. Their other coffee is Café Bourbon Rosado, coffee that comes from the municipality of El Águila. This coffee is part of a conservation strategy for the Andean bear, the only bear in South America that unfortunately is vulnerable to extinction!
They have breakfast till midday, various toasts, sandwiches and bowls. My favorite is their yuca waffle with cream cheese.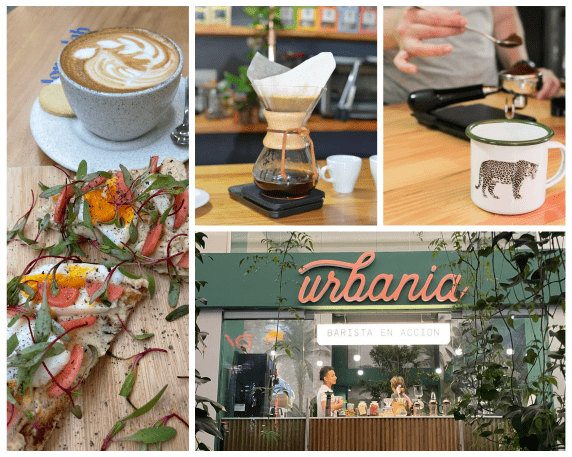 Back