Want to give your kids and yourself an unforgettable experience? Have a holiday that is interactive, fun and relaxing for all? We accommodate holidays for families with children and will adjust the itinerary so it matches your desires and travel style. This itinerary includes interactive learning experience and a visit to an amusement park.
Medellin
Guatape
Coffee Region, incl. amusement park and Cocora Valley
Cartagena
Beach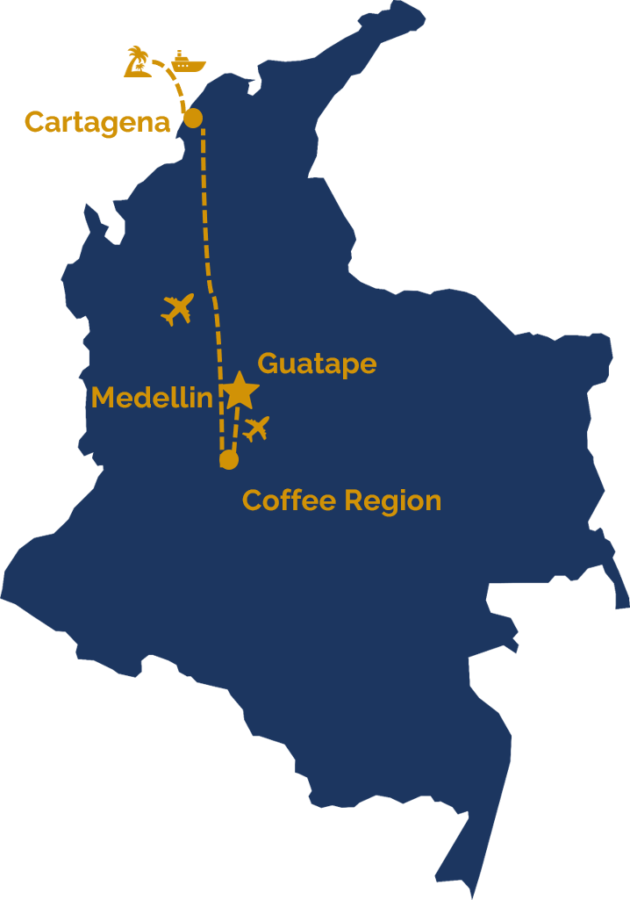 Day 1

Medellin

Arrive in Medellin, our English speaking driver will be waiting for you at the airport and take you to your comfortable hotel. Take time to rest from the flight and adjust to the time and climate difference.

Day 2

Medellin Fruit Tasting

In the morning visit a local market, you will try exotic fruits on a local market and interact with the local vendors bargaining for a good price.

In the afternoon rest or walk around the city on your own leisure.

Day 3

MEDELLIN CABLE CAR AND PARQUE EXPLORA

In the morning visit Parque Explora a science and technology park, a great place for kids to learn about animals, there is a miniature zoo, playground, a picnic spot and one of the largest aquariums in South America.  Enjoy the 300 interactive experiences spread across several rooms and experimental spaces for all. After lunch continue to take the cable car up to Parque Arvi. From the cable car you can see Medellin from above. Parque Arvi is a natural park and you can have an optional hike.

Day 4

GUATAPE

Just 1,5 hours from Medellin you will visit a beautiful town called Guatape. This town is famous for its zocalos, colorful paintings that tell a story about each house. You can climb a large rock with 700 step from which you will enjoy the beautiful view of the lake. Take a boat or kayak on the lake. Enjoy a local trout dish and sweet desserts in town. Return back to Medellin.

Day 5

COFFEE REGION

After a leisurely breakfast fly to Armenia in the Coffee Region. Enjoy the afternoon at the swimming pool at a beautiful hotel Hacienda.

Day 6

THEME PARK - PARQUE CAFE

With an interactive coffee museum, a live song and dance show detailing the history of coffee, an orchid garden, plus rollercoasters, log-flumes, bumper cars, and go-karts, the park is jam-packed with fun activities that both parents and children can enjoy. With over 50 different attractions, you could keep the kids busy and happy all day at the National Coffee Park

Day 7

COFFEE FARM AND HIGHEST PALM TREES IN THE WORLD

In the morning learn everything about the coffee process in an interactive way. Pick your own coffee beans and process them into a real cup of coffee.
Visit Cocora valley with the highest palm trees in the world. Take cool pictures in a local colorful Jeep Willy with the palm trees and mountains in the background.

Day 8

CARTAGENA

Fly to the Caribbean coast, to the colonial town of Cartagena. The afternoon at leisure at your hotel with swimming pool.

Day 9

CARTAGENA - CITY TOUR

Half day city tour with walk over the city walls. 

Walk over the city walls during a tour where you will learn about the eventful history of Cartagena. The guide will explain about the various treats you can buy at one of the stalls by the clock tower and try the exotic refreshing fruits from one of the street vendors. Take beautiful pictures with the colorful houses and Palenqueras, ladies with colorful dresses. Enjoy delicious seafood and coconut rice in one of the many exquisite restaurants. This is also the place to buy souvenirs.

Cartagena can get hot, so make sure to apply sunscreen regularly, wear a hat, drink enough water, take breaks to rest and don't forget an ice cream to cool down.

Day 10

BEACH

Leave from Cartagena by boat to one of the beautiful islands and enjoy some relaxing on the beach, optional snorkeling.

Day 11

BEACH

Relaxing on the beach or water activities.

Day 12

FLY HOME

Return to Cartagena by boat for your flight home.