See all the famous places of Colombia in 17 days.
This itinerary will take you to all the highlights including big cities, small towns, green mountains, national parks and the Caribbean coast.
Bogota
Zipaquira
Villa de Leyva
Coffee Region, inlc. Cocora Valley and Salento
Medellin
Tayrona
Cartagena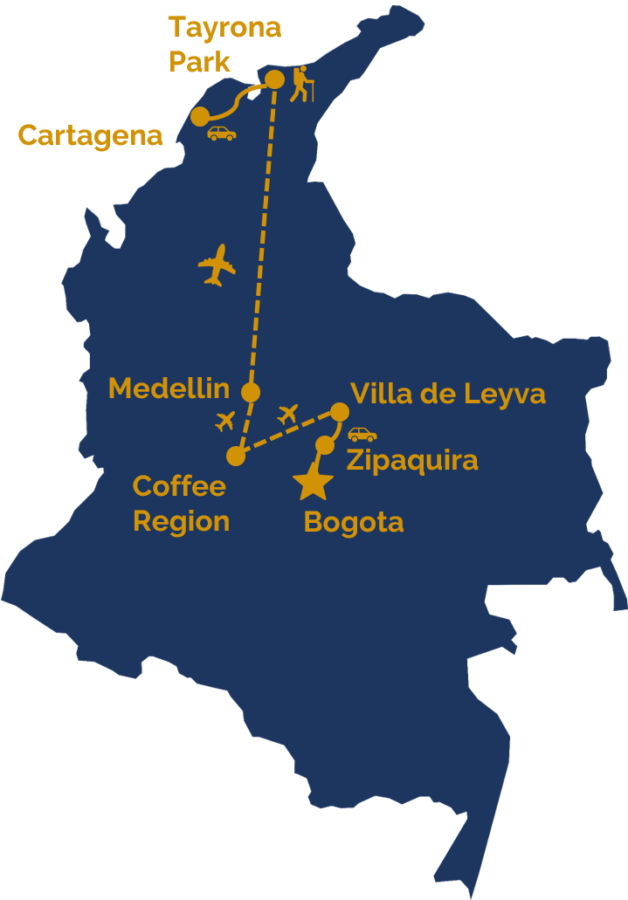 Day 1

Arrival in Bogotá

After your international flight you will be picked up at the apartment and taken to your hotel for a good night's rest.

Day 2

Bogotá

Explore the most beautiful neighborhood of  Colombia's capital city, La Candelaria. You will discover the colorful street art. Visit the Museum of Colombia's famous figurative artist and sculptor Fernando Botero, famous for his proportionally exaggerated paintings and sculptures. Gaze over the beauty of pre-Columbian gold in the Gold Museum.

Finish the day with a stunning view over the city from the Monserrate view point.

Day 3

ZIPAQUIRA SALT CATHEDRAL

Drive to Villa de Leyva about 3 hours from Bogota, stop along the way to visit the Salt Cathedral in Zipaquira. The use of this mine has a history going back to pre-Columbian times and continuing in colonial and republican eras to the present day. The ancient Muisca indigenous people were the first to benefit who from this enormous salt deposit, which turned them into one of the most prosperous pre-Hispanic societies of their time.

Day 4

VILLA DE LEYVA

Enjoy a half day desert trip to Pozos Azules, fossil paleontologic place and the archaeological park infiernito. In the afternoon you have free time to walk around the town, or do a ceramic course.

Day 5

Coffee Region

Drive back to Bogota airport and fly to Pereira, you will be picked up by your driver and taken to your accommodation. Depending on the type of accommodation you prefer you can either stay at a comfortable Finca with working dairy farm where you can help milk cows or stay at a boutique hotel with your private jacuzzi.

Day 6

COFFEE TOUR

In the morning depart to a coffee finca to learn all about Colombian coffee culture. You will be picked up at your hotel. During the tour you will learn about the whole coffee process from seeds to a brewed cup of coffee. Of course you have the opportunity to try the Colombian coffee yourself.

For lunch, you will go to the typical Colombian town Salento. You will have the afternoon to walk around the town and return to your accommodation at the time of your preference.

Day 7

COCORA VALLEY AND SALENTO

Visit the highest palm trees in the world located in a beautiful valley. 

There are various hiking options depending on your desire and capacity. You can choose to do a full adventurous hike of 5 – 6 hours which will lead you through open landscape, dense forest, crossing rivers (over wobbly hanging bridges), going up to 2,860m and you will end the hike rewardingly in the valley with the palm trees. Half way you can visit a Hummingbird sanctuary and try a cup of agua panela (kind of tea with sugar cane).
You can also choose for easier hikes of 1 to 3 hours. For all hikes good hiking shoes are recommended.

If you chose the shorter option you can enjoy a cup of Colombian coffee or fresh fruit juice while enjoying the landscape.

Day 8

HORSEBACK RIDING AND FILANDIA

One of the things Colombians like to do for leisure is to ride their horses.

Take a 2-3 ride to a waterfall and discover the landscape Colombian style.

In the afternoon visit the beautiful small town of Filandia. Walk around at your own leisure. Less touristy than Salento, here you will find everyday small tiendas (stores) like fruits & vegetables, butchers, hardware stores. The town also has many cute restaurants and bars.

Day 9

MEDELLIN CITY TOUR

From Pereira fly to Medellin, the second largest city of Colombia.

During a half day city tour you will learn all about the notorious history of this city and how it has transformed over the past decades. Visit Plaza Botero with the voluptuous sculptures of the famous artist Fernando Botero, Parque Berrio and Santo Domingo.

Day 10

GUATAPE

Just 1,5 hours from Medellin you will visit a beautiful town called Guatape. This town is famous for its zocalos, colorful paintings that tell a story about each house. You can climb a large rock with 700 step from which you will enjoy the beautiful view of the lake. On top of the rock you can enjoy some fresh fruit or michelada (refreshing beer with lemon). Return back to Medellin.

In the evening optional private salsa classes, tango experience or ask us about restaurant recommendations and explore Medellin nightlife on your own!

Day 11

MEDELLIN - FRUIT TOUR AND COMUNA 13

Colombia is a fruit lover's paradise with many delicious and exotic tropical fruits that you can't find anywhere else.You will try exotic fruits on a local market and interact with the local vendors bargaining for a good price.

In the afternoon you will do a Comuna 13 tour, see Medellin from above from the cable car on your way to Comuna 13. The tour guide will explain the transformation this neighborhood has gone through and how it went from one of the most dangerous neighborhoods in the world to a colorful area.

Day 12

TAYRONA PARK

Fly from Medellin to Santa Manta, private transfer from Santa Marta to Tayrona Park. Rest of the day at leisure.

Day 13

TAYRONA PARK - FULL DAY HIKE AND BEACHES

Full day tour in the park with a visit to amazing beaches.

Day 14

TAYRONA PARK - HALF DAY HIKE

Sleep-in in the morning and enjoy the peaceful nature around the lodge. Afternoon guided hike through the park.

Day 15

Cartagena

Private transfer from Parque Tayrona to your hotel in the old town of Cartagena. 

Being rich in unique architecture and historical sites, there are plenty things to do and see in the city of Cartagena, and photographers can indulge themselves. Wander around in the cobblestone streets, forming a cozy labyrinth of brightly colored buildings, floral balconies, luxurious boutique hotels, multifarious restaurants and bars, welcoming plazas and cute boutique shops.

Day 16

Cartagena City Tour

Learn more about the history of this colorful town during a guided city tour in the morning. The afternoon you will have to yourself to walk around the city, take some amazing pictures, try one of the many seafood restaurants and shop and boutique stores.

Day 17

Fly Home

Private transport from your hotel to Cartagena airport for your flight back home.