Colombian Food
12 June 2023.
Posted in

Blog EN
What is the food like in Colombia? Is it beans with rice every day? It is true that Colombians do like beans with rice, however there is much more to it. Every region has their own specialties and international food is becoming more and more available.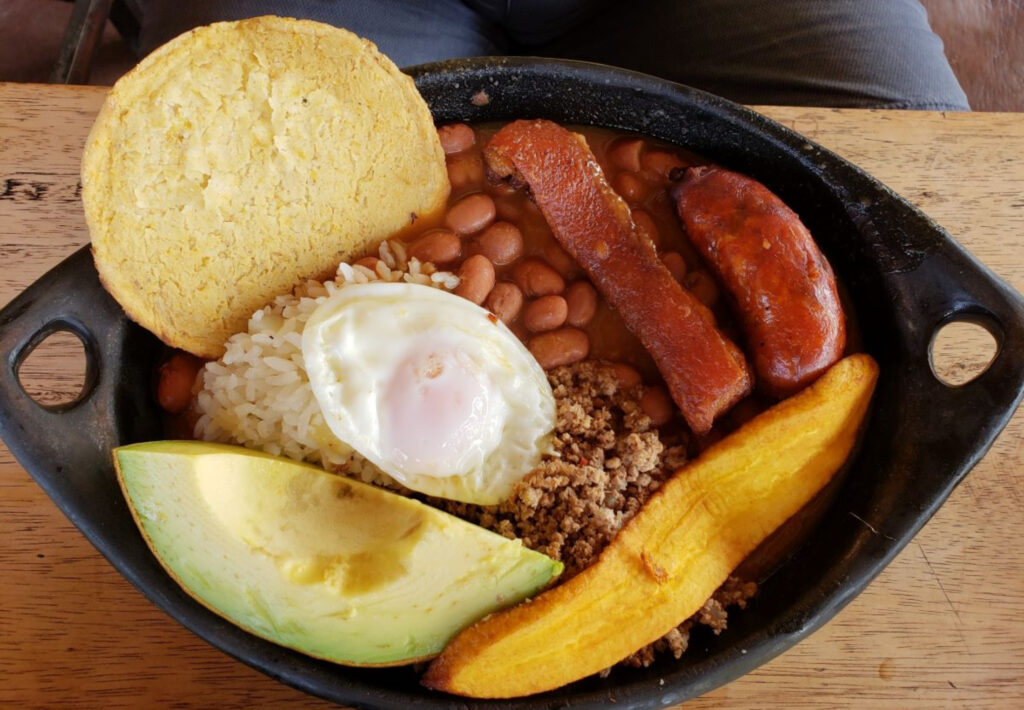 Breakfast
A typical Colombian breakfast is arepa with scrambled eggs, cheese, fruit and coffee or hot chocolate and perhaps a fresh juice. An arepa is made from corn flour and has a round flat shape. There are various types of arepa, thinner, thicker, with more flavor or less flavor. There is also a variety called 'arepa de chocolo' which is sweeter. You can put some butter on your arepa and put the fresh white cheese and the eggs on top. Usually, you can pick toppings for your scrambled eggs, like white onion, tomato, and ham. Colombia is the third biggest exporter of coffee in the world. However, because the demand of coffee is so high abroad, most of the high-quality coffee actually gets exported. Depending on where you are staying the coffee can be lower quality instant coffee or high standard export quality coffee well prepared. Hot chocolate is also very popular amongst Colombians to have for breakfast. They will melt pieces of chocolate either in hot milk or hot water. Colombian's are known to have a sweet tooth and are not shy to add some spoons of sugar to their hot chocolate.
Menu del dia for lunch
In Colombia the biggest meal of the day is lunch and the 'menu del dia' (dish of the day) is an economical option. Every day it is a different dish but fixed for that day. It is a big plate and usually contains rice, protein (chicken, beef, pork or fish), small salad, soup and a fresh juice. Most restaurants serve this menu del dia besides their regular menu and it only costs between 10.000 – 15.000 COP (2.70 – 5.40 usd).
Medellin and coffee region
The people in this region call themselves 'Paisa' and their most famous dish is called 'bandeja paisa'. This super large dish will keep you full for days. It usually has 2 types of sausages, grounded beef, chicharron which is fried pork belly, beans, avocado, plantain, rice topped of with a fried egg and a small arepa on the side. Most restaurants offer a smaller variant as it can be too much. However, it is a must try when visiting Medellin or the surroundings!
In many small towns in the coffee region you will find trout farms. Where you can either fish your own trout or sit down and have the staff prepare and serve the trout fresh for you.
Bogota
The most famous dish from the capital of Colombia is 'Ajiaco Santafereño'. It is a rich chicken soup with 3 types of potatoes: criolla, pastusa and sabanera. It also has a corn cob, capers and a bit of cream. It is served with rice, avocado and a banana on the side. This is the perfect meal to warm you up as Bogota can be a bit chilly.
A great restaurant to try all kinds of Colombian food is Andrés Carne de Res. This fun, lively restaurant will keep you entertained for the whole evening with music, dances and sketches.
Besides the typical Colombian food, Bogota is known for its outstanding high-end restaurants. Some of the best restaurants of Latin-American are based here. You will find amazing restaurants in the neighborhoods Zona Rosa, Zona G, Chapinero Alto and Parque 93. If you book with us, we will advise you on the best spots to dine based on your taste.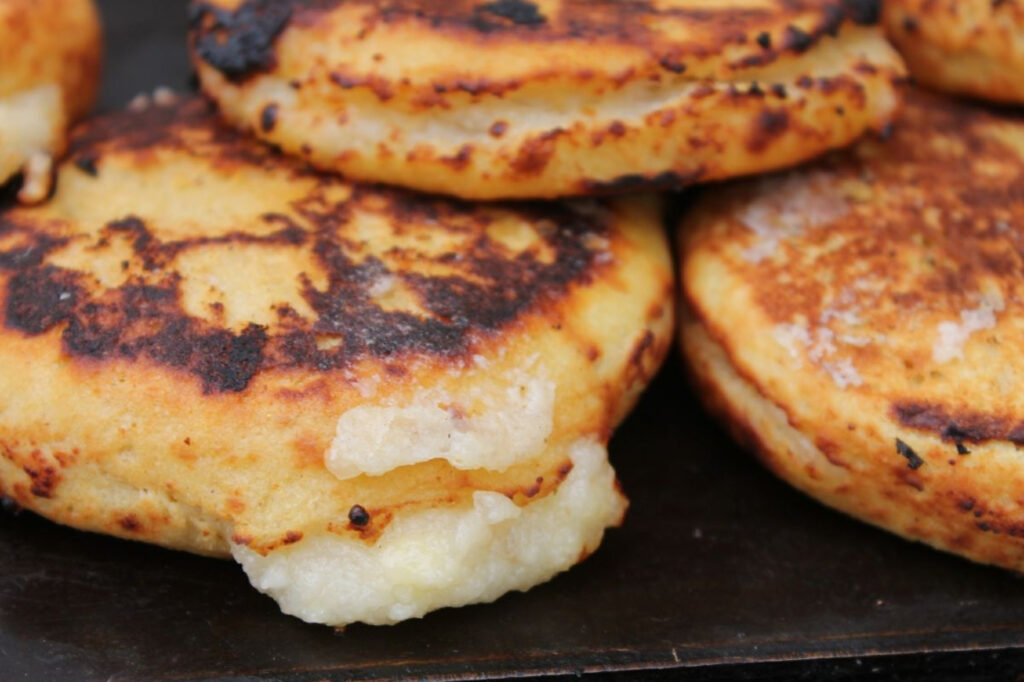 The Caribbean coast
The Northern coast of Colombia has its own flavors. It is a paradise for fish and seafood lovers. A typical meal consists of a fried whole fish like Mojarra or red snapper with coconut rice and plantain, best with a limonada de coco. A refreshing lunch is a ceviche made from raw fish or seafood and lime, perfect for a hot tropical day. It is important to stay hydrated well and the fresh cold whole coconuts you can buy from local street vendors will do the trick. In the evening you can add a little liquor to the coconut and sip your coco-loco from one of the rooftop bars while watching people dance to champeta. The mayor cities are Cartagena and Santa Marta in which you can find high-end restaurant catered towards the well-off Colombians and foreigners that serve fine dining.
If you are not a big fan of fish a great restaurant is Crepes & Waffles, it has a beautiful rooftop and has a large menu with many options. The food is good quality, and the restaurant hires only single women and women in need to support them.
Fruit
One of the amazing things about Colombia is the fruit. The country is rich of an abundance of exotic fruits that you have not seen anywhere else before. You can buy them from carts on the street, at local markets, in supermarkets or at the small corner stores. Or ofcourse in a nice fruit salad at a breakfast or lunch place. During our fruit tour in Medellin, you have the opportunity to visit the biggest market of the city and try 17 types of fruits in a day! A local tour guide will explain how the fruits are eaten and how families use them. Some fruits you should try are the mangosteen, dark purple from the outside, white and soft from the inside and deliciously sweet. Chontaduro, a savory flavor enriched with some honey. The yellow pitahaya (dragon fruit), which has way more flavor than its pink relative. And Guanábana (soursop) this large fruit can be eaten in pieces or in a smoothie. These are just a few examples of the dozen's colorful nutritious exotic fruits.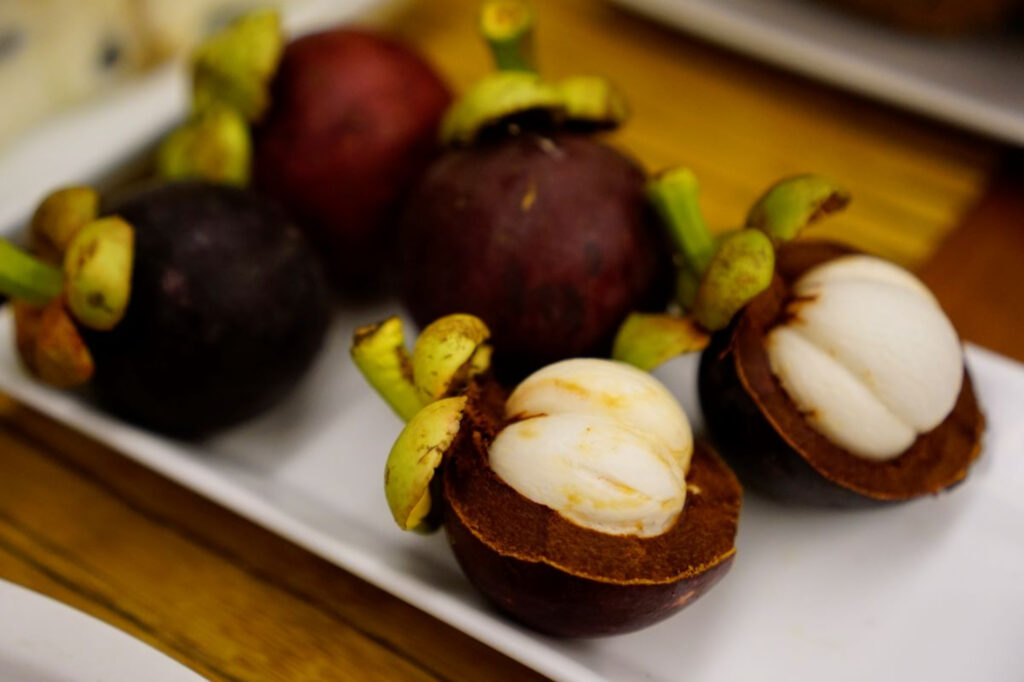 Snacks
On almost every corner you will find a bakery with all kinds of sweet and savory snacks. Cheese bread, yuca bread, cheese sticks, meat/chicken pies, pastel with guava, brownies and all kinds of cakes. They are cheap and perfect for your breakfast or as a snack with a coffee. 
As in many Latin-American countries empanadas are a prominent part of the street food culture, in Colombia they are usually fried and filled with either chicken, meat, beans or potatoes. They come with various sauces like a spicy sauce or guacamole. In parks or at metro stations you can find many small food stalls that sell them in varieties.
A very typical Colombian snack is buñuelos. These small round balls are made from corn and tapioca (yuca) flour and deep fried. Some add cheese or arequipe (like caramel) to them. They are especially popular around Christmas.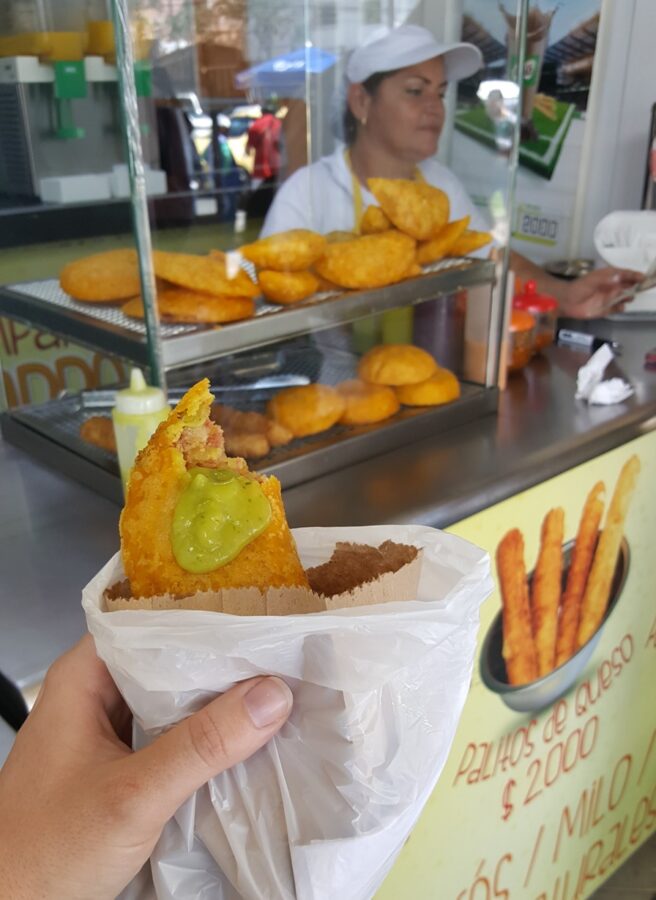 Vegetarian
The traditional Colombian food has a lot of meat, chicken or fish. Therefore, it can be challenging to find good vegetarian options in the smaller, more remote towns. There is always the option for rice and beans and a simple salad. However, in the past few years vegetarian food has become more and more popular. The younger generation is more conscious about their food consumption and the influence from international travelers has led to the opening of more vegetarian restaurants.
Especially in the big cities you will find many good vegetarian options, either all vegetarian/vegan restaurants or good options at regular restaurants. These places have become popular amongst non-vegetarians too, who are looking for high quality healthy meals.
Ofcourse this article is too short to mention all the food Colombia has to offer as it is very divers, so the best way to find out is to come and try it yourself!
Do you want to try these foods yourself and go to the best places? Book a food tour with us and our local English-speaking experts will make sure you get the most out of your taste experience!
Send us a message today for more information: info@miramundotravel.com
Back